Hello and happy Sunday!
Pattern~ My own Vanilla socks   Yarn~ Mountain Girl Yarns in the color Sorbetto.
The summer months are coming...that means warmer temps and cooler knits. While I will not give up knitting with wool, I will continue to knit all the socks as they tend to be the perfect warm weather knitting project for me.
My attempt to be a monogamous knitter seems to waver during the warmer months. Does that happen to you? Maybe the heat pushes the ability to focus right out of one's brain? :)
Plum Deluxe Tea
Here is where things, and by things I mean me, when most avid tea drinkers turn to ice tea I do not.  I find I still drink hot tea even when the number begin to hit over 100 degrees. Which leads me to a question for you all...
While I am all for salads and cold sandwiches, I need to up my menu for the hot temps. I fall into the same routine when it comes to recipes. Do you have any wonderful tried and true Summertime recipes? Even if it is a variation on salads, I could use a menu makeover.
Now to the winner of last week's review of The Knitting Artist's shop giveaway...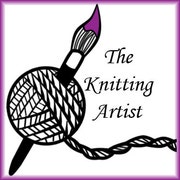 #17   I love Lisa's blog and you are just wonderful to share her craft with us!