Giveaway now closed~ winner will be announced midweek!
Hello there, happy Sunday!
If you remember one of my goals for 2017 was to try and introduce you all to more indie dyers. I am happy to say I have a great line up at the ready. Are you ready to meet our first amazing indie dyer, Rachel of Great Lakes Tweed?
Thank you so much to Rachel for allowing me to pester her into a review and allowing me to review her yarn for you all the read about and get to know her a bit. For me purchasing hand-dyed yarn from indie dyers is personal because I think everyone needs to support art in whatever medium it comes in. The art of hand-dying sings to my soul, therefore it is only fitting that I want to know more about the creator.
So without further ado, a chat with Rachel.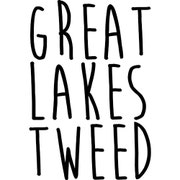 When did you start your business?
I have been dying yarn since October 2015, but I just recently started my Etsy shop in November, 2016.
What inspired you to dye yarn and what inspires your colors?
There is actually a bit of story behind what got me started dying yarn. My fiancé and I live near Greenfield Village, which is a large outdoor living history museum filled with historical buildings. The buildings, including farms, are maintained by in-character works. Part of the farm maintenance includes sheering the sheep, which is then hand spun into yarn that they sell on site. My fiancé took me to the museum on my birthday in 2015, and he also bought me a couple skeins of their yarn. While we were there some of the workers were natural dying yarn with walnuts, berries, and various other dyestuff. I thought it was super interesting and decided to give it a shot myself, so I dyed my yarn with a dozen roses. After that I started dyeing with other materials, and eventually found my true passion acid dying yarn.
My colors are inspired by a variety of things, but most inspiration come from Michigan's great outdoors. The funny thing about dyeing yarn is that it rarely comes out as planned, so while I might draw inspiration from one scene it might end up looking totally different in the end!
How about a little about you?
I started crocheting forever ago, when I was about 8 years old. My best friend was learning to crochet, so I asked my grandma to teach me. I was literally hooked (haha). I kept crocheting regularly, but eventually wanted to learn to knit, so I taught myself how to knit through Youtube videos and tutorials I found online when I was in college (about 2010). I loved knitting! I swear it's the only thing that kept me sane while working on my degree, haha. These days I prefer knitting, and do it regularly, but I do still crochet from time to time. :)
These days I'm working as an IT Professional by and dyeing by night. I live with my fiancé, dog, and two cats in Metro Detroit, Michigan.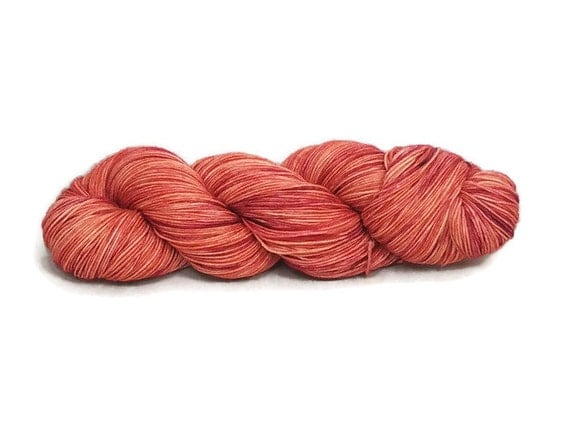 Where do you see yourself and the business in 5 years?
In 5 years I would love to be dyeing on a large scale. Currently I'm rocking very small batches – never more than 2 skeins dyed in a single batch. I'd like to maintain smaller batches, but doing 5 or so at a time would be great! So in conjunction with that, I'd also love to have dye studio to support my dyeing hobby.
Shorter term, I'm looking to expand into other yarn weights within the next few weeks! 
Isn't it wonderful to find out the inspiration behind the beautiful creations we get to play with as yarnies?  I found Rachel on one of my many visits to Etsy and fell in love with this yarn...
in the colorway, Love Shack.  It went on the needles immediately for one reason because I wanted to test out the yarn so that I could accurately say how I felt about it for this review and another reason, how could I resist?
Pattern~ Wendelin by Rosemary Waits
Off I went. The feel of the yarn is perfect. It is everything soft that a merino blend should be. I don't say this lightly as I have had yarns that look highly saturated feel a bit like twine and rather stiff to knit with-thankfully that was not the case with Great Lakes Tweed sock yarn. 
The yarn was pleasantly soft with the perfect amount of nylon (25%), so I felt confident that it would wear well. Another test of colors that are richly dyed such as these is that once soaked, how do the colors react. Do they muddle together? Do those brilliant pops of dark pink get lost? As you can see above there was not bleeding on my very white toe and they colors stayed tonal. Nothing lost in translation after a couple of washings. Perfection because I do like me a bright white contrasting toe.
It is rather lovely when things work out for the best, right?
Thanks to Rachel one of you lucky peeps will have the chance to win one of the most beautiful skeins of yarn in the color, Fire On The Mountain (pictured above). It is a sock yarn 75% Superwash Merino 25% nylon 463 yards.  For your chance to win, please visit Great Lakes Tweed's Etsy shop and come back here telling me your favorite colorway or since she is open to custom orders what colorway you would like to see her dye up.  The giveaway is open worldwide and will close January 28th and a winner will be drawn via random number generator on January 29th and announced on the blog.
* Thanks to many of you great people- Rachel's yarns are selling like hotcakes. Take a glance at her sold yarns to see some of the colorways she offers up*
Till next Sunday, I wish you the best day today!
XO,
Andi