**This giveaway is now closed- thank you for all who commented.**
Happy Sunday! Can I just tell you that these monthly indie dyer features have been one of the best ideas I have had in a long time? It has been so amazing to get to know these artists on a personal and business level.
March I get the privilege of introducing you to the talented, Kirsten of Knitting a Love Song. Before I got to know her yarn, I watched her wonderful podcast and fell in love with her infectious personality. Her projects and yarn all speak to my heart. I have no doubt that after meeting Kirsten you will fall in love with her as well.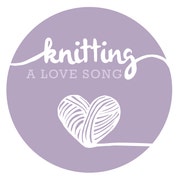 I am 29 years old and for the first 20 years of my life, I lived in New York. When I moved to New Orleans, I barely knew anyone and didn't have a job right away. I taught myself to knit through youtube and soon found Ravelry.com Knitting A Love Song officially opened in February of 2016, but my love for dyeing yarn came long before that. I started dyeing my own yarn in 2012 with kool-aid, food coloring and vinegar. Before I knew it, I was over-dyeing skeins of yarn I had bought years earlier and coming up with new, rich color combinations.
In 2015, I found myself feeling burnt out at my full time job and uninspired with my knitting. I struggled with depression my entire life and it seemed like it was only getting worse. I mentioned to my boyfriend that I wished I could just dye yarn all day for a living and he said, "why not?" The prospect of opening Knitting A Love Song and being able to dye yarn seemed like a dream come true. When I get to play with the dye pots, all my stress and anxiety seems to melt away. I dye colors that I love, in hopes that my customers will love them, too.
My inspiration comes from things and places in New York and New Orleans, as well as my mood at the time. I started my podcast in 2016 and while my episodes were sporadic, I feel that it gave me more motivation to knit. I have made the resolution to record at least 26 episodes this year. I have made so many amazing friends through knitting, podcasting and dyeing yarn.
I feel so lucky to be part of a community that values generosity, creativity, kindness and love. I hope that with the continued support of my customers and other fellow indie dyers, that within the next five years, I could make Knitting A Love Song my full-time job. There is nothing more relaxing and fun to me than dyeing yarn for my shop.
Kirsten has an wonderful group on Ravelry and is currently hosting a Stash Down KAL. Here is a bit more about it:
Stashdown KAL: 
Towards the end of 2016, I realized that I had enough yarn to probably last the rest of my life. I had yarn in stash that I had bought in the beginning of my journey through the fiber arts;, things that I was keeping for sentimental reasons. But keeping yarn in boxes wasn't going to bring me happiness;...what would bring me happiness is turning that yarn into something beautiful, which helped propel the Stashdown 2017 make-a-long. The idea of Stashdown 2017 is to use the beautiful things that you bought and turn them into something even better. We all have excess somewhere in our lives and for a lot of us crafters, that excess is in our stashes.
The focus is on using up some of the things you're hoarding
because you think
they're too nice to use, and/or to find uses for
things you are still searching for the perfect project for. I'm hoping that

through Stashdown 2017, we can all motivate each other to be more creative and to think of our stash in different ways. I've encouraged anyone who wants to participate to make some goals for the year and let them know that these goals do not have to be set in stone. The purpose isn't to force yourself to do anything but to challenge yourself throughout the year.
What a brilliant love Kirsten is right? Not only is she talented but also extremely generous and has offered up a skein to one lucky winner from her Etsy shop. The giveaway is open worldwide and the winner will get to choose the yarn- I know right?!  If that weren't enough Kirsten is also offering up a 15% discount code to her shop- MSKLOVE.
The giveaway will be open until Saturday March 25th at midnight. The winner will be drawn via random number generator and announced via a blog post on the 26th. To enter please leave a comment (make sure to include your email address when prompted- no need to enter it into the comment itself) and tell me your favorite colorway in the Knitting a Love Song shop or what color would you like to see.
Thank you Kirsten for allowing me to feature you and your beautiful yarn on my blog. I feel like I have gained a new friend in the process-lucky me.
I will leave you with an episode of the Knitting a Love Song podcast and wish you the very best day today!
XO!
Andi