Happy Sunday! Here we are into another month in the year where we get to be treated with a little Q & A from another wonderful indie dyer. The month of April we celebrate- Vanessa of Dyed in the Wool Yarn Co. So grab your cup of tea and let's get to know this amazing dyer.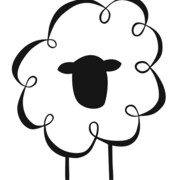 dyedinthewoolyarnco
Indie Dyed Yarnie Works Speckled with LOVE. 
Q: When did you start your business? 
A: I started my business a little over a year ago.
Family is everything as Vanessa shows us here. :)
Q: What inspired you to dye yarn and what inspires your colors? 
A: My inspiration to dye yarn was to have access to the funky and bright colors I was searching for.  Lots of things inspire me. Sometimes I picture someone's outfit in my head and think of the color combos that make me say "wow".  I picture how they will look worked up and then work backwards and apply them to my dye technique. I love anything funky and use that. House décor, kids drawings, fashion, everything I come in contact with! 
Inspirations
Q: How about a little about you? 
A: I am a graphic designer by trade. I started staying home with my two little girls and needed a creative outlet that I could control my hours with. My grandmother is a 90 year old knitter, my mom knits and I do now too! I crocheted at a young age and only began knitting 5 years ago. Obviously I take my favorite things to a new level and decided to dye my own yarn! LOVE IT!
Q: Where do you see yourself and the business in 5 years? 
A: I hope to be able to work with my mom and have her help me in my business.  She is a busy body like me and when she retires I think we'd make a killer combo.
Q: Your favorite dessert? 
A: GIVE ME ALL THE PIE. I want pie for Christmas, my birthday, because it's Thursday, all the days.
Thank you so much Vanessa for sharing yourself and your gorgeous talent with us. Pie...ah yes, if every meal could be pie with a side of knitting, how much happier this world would be. Not only does Vanessa have excellent taste in desserts but in her color combinations as well.
I bought a skein of her Twisted Spark sock yarn in the colorway, Macaroon. Seriously I cannot capture the beauty of the yarn.  I do try to finish at least one sock and soak it so I can give a review of the yarn. Mission accomplished and if ever there was a time when single sock syndrome was not a problem this would be that time. In an odd way, I sort of never what to stop knitting with this skein.
The hand is amazing and while sometimes yarn that contained stellina has a bit of rougher feel to it, not the case here. The random speckles were perfectly timed, if that makes sense. After a soak this yarn which was already as soft as heck, bloomed. Despite having a drawer full of socks, I may have to be forced not to wear these everyday this coming Winter. 
Pattern~ Hermione's Everyday socks
As if drooling over yarn and getting to know Vanessa wasn't enough, she graciously sent a skein of the most fluffy stunning yarn for one of you lucky peeps. This is her DK Single But Not Lonely Yarn in the colorway De Carnivale.
To enter please visit Dyed in the Wool Yarn Co. and come back here leaving a comment of what your favorite colorway in her shop is. Please make sure to leave your email address so that I can contact you if you are chosen. This giveaway is open worldwide and will close April 29th. Winner will be selected via random number generator and announced on the blog April 30th.
Happy Easter! Have the best day today.
XO,
Andi