Hello there!
I am so happy to be able to introduce October's featured indie dyer, The Woolen Homestead. I first found Tiffany via Youtube through her wonderful podcast. When she started dyeing, I knew that without a doubt I had to get my grubby yarn loving hands on some of her beauties. Not only is she a brilliant dyer, but a truly wonderful person as well.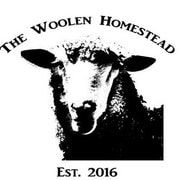 So without further ado...let's get to know Tiffany the dyer behind The Woolen Homestead.
When did you start your business?
I started my business in August of 2016 so just over a year ago! 
What inspired you to dye yarn and what inspires your colors? 
Dyeing yarn just seemed like the next step for me in my fiber journey. I found myself really intrigued by the dyeing process (especially speckles!!) And constantly looking up tutorials online. So one day I decided to give it a try and I was hooked right from the start!
My colorways are generally inspired by my love all things bright and vivid. I just love playing with bright colors in the dyepots and seeing what comes of it. It really is such a relaxing and fun process, especially if you have some good music playing! However there is another creative side to me that really loves seeing muted and delicate colors together as well. So sometimes you will see quite a mix in my shop. I am also a huge Harry Potter fan so I love finding inspiration in the books and movies as well.
Out of all the colors you have created- which one is your favorite and why? 
Ahhh that's so hard to chose! :P I think my favorite would have to be Nymphadora Tonks. Pink is one of my favorite colors and all of the different colored speckles in that yarn just make me smile. :) 
How about a little about you?
I'm 28 years old and have always called Michigan home. However I did live in Minnesota and NYC for a little while. I have a husband named Ethan and we've been married for almost 5 years. We have two dogs Benny and Ella. Benny is a yellow lab and Ella is a black lab/hound mix. I am a dog groomer for PetSmart by day and a yarn dyer by day off.  I started my knitting journey at first when I was 19 and I wanted to knit a pair of mittens. My mom had taught me to crochet years before and I loved that but when she tried to teach me knitting English style it just didn't stick with me. Then about a year later a friend of mine was knitting and I asked if she could teach me. She taught me continental and it stuck with me no problem! I've been knitting ever since and have been knitting on a daily basis for about 4 years now. My newest fiber adventure is spinning and I can't get enough of it!! I started out on a drop spindle my husband made for me about 3 years ago and then graduated to a spinning wheel about 2 years ago which I love so much! My spinning wheel is an Ashford Kiwi 2 and I think it's a great beginner wheel!
Your favorite food?
Pineapple and ham pizza!!! LOVE it! 
Places you can find her:
Thank you so much Tiffany for agreeing to be a feature on my blog. It has been so lovely getting to know you. Tiffany has generously offered up one of her skeins to one lucky winner. You all are very lucky I didn't steal it because...well look at it!
This gorgeous skein is named, The Half Blood Prince.  To win the skein visits The Woolen Homestead shop and come back here telling me your favorite. The giveaway will close November 4th and a winner will be drawn via Random number generator on November 5th.
Good luck and have the best day today!
XO,
Andi