Hello there, happy Sunday to you!
While I love posting every Sunday and chatting with you, to be able to feature some talented dyers this year has been a thrill. We are just over the half way mark of 2017 and the hits keep on coming. Of course I must say a huge thank you to all of you for supporting these dyers and liking their Etsy shops. It means the world to me and them. So how about if we get to July's indie dyer...Wren House Yarns?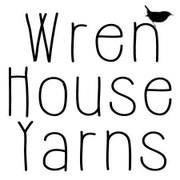 I have known and adored Leigh for a number of years via her blog. Being one who was inspired by her beautiful photos of nature and yarn, I was elated when she began dyeing. I have acquired quite a few beauties from her shop and the love affair continues to present day.
What inspired you to dye yarn?
My love of dyeing yarn really came about because I wanted to learn to knit fingerless mitts about 9 years ago.  Watching the colors come together while knitting was magical.  I just had to figure it out!   First came Kool-aid, then professional acid fast dyes.  It's a slippery slope!  
What inspires your colors?
My inspiration comes from everyday life.  From bits of nature to unfinished thrift shop paintings.  While I mostly dye with professional acid fast dyes, I love working with natural dyes as well.  It will never cease to amaze me the beautiful one-of-a-kind colors that can come from Mother Nature.
How about a little about you?
We are lucky to live in a few acres of woods on our suburban homestead.  Summers are spent picking berries, gardening, canning, and drying yarn on the clothesline.   Knitting and yarn drying by the 
wood stove
 in the winter.  I've been known to keep bees, knit in my kayak, stack wood, and haul home bags of roadside plants to use as dye.
When did you start your business?
Wren House Yarns opened about three years ago.  It's named after the lovely little Wren that nests outside our bedroom window every year.  So cheerful and energetic! 
Where do you see yourself

in five years

?
I would love to still be dyeing small batch yarns from the garage workshop

five years from now

!  It's tricky as an independent dyer.  While I've teetered at the precipice of moving over to creating a larger business, staying small is what works for me.  Each skein is unique.  I don't want to loose that experience for the knitter.  Plus, my creative joy comes from experimenting with small batches.  It is truly wonderful to go out the back door, open the garage to the woods, and set to work!
Lovely Leigh, is what I call her. Amazing when someone's personality and loves can be translated so perfectly into their art.  Thank you Leigh for allowing me to feature you on my blog!
You can find Leigh and Wren House Yarns in the following places:
In addition to agreeing to be a gracious feature here, Wren House Yarns has offered up this truly stunning skein of her 100% Superwash Merino fingering weight yarn in the color Kilim (inspired by vintage Kilim textiles).
To enter to win this stunning skein, please visit
Wren House Yarns
and come back to tell me what your favorite colorway. This giveaway is open worldwide and will close July Saturday the 29th at midnight PST. I will draw a winner via Random number generator and announce it on the blog on July 30th.
Next week I will share with you the beautiful socks I am knitting with Wren House Yarns!
Have the best day today!
XO,
Andi